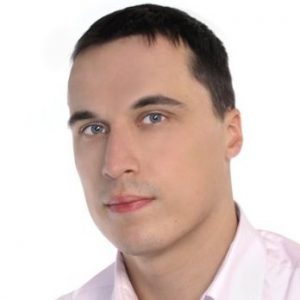 Has one foot in science and the other in engineering. An enthusiast of modern technologies specializing in .NET platform. Graduated with First Class Honours in Computer Science at Warsaw University of Technology. In 2016, defended his doctoral thesis.
In IT market since 2006 as a developer, leader and architect. Participated in a wide range of projects, among others for financial or medical sector. Developed software used by the largest investment funds in the UK. Worked in a research project on image processing for Google. As Chief Scientific Officer was responsible for research & development of PlatformX – the artificial intelligence that will be able to write software.
A blogger (http://www.michalkomorowski.com/), author of scientific articles, speaker and holder of many certificates. Privately, a happy husband and father who loves travelling and books, also interested in survival and sport shooting.